On 21 March, at an event organised by Barnardos in Leinster House, KHF gave TDs and Senators a preview of  the findings from our recent online survey of parents: Giving Our Children the Best Start in Life.
The five key messages are :
Time Matters, Family Matters, Choice Matters, Money Matters and Supports Matter.
Behind each of these key messages are the rich thoughts of almost 500 parents.
Francis Chance of KHF gave a presentation of the findings which is available here.
A Summary Report and the Full Report will be available by the end of March.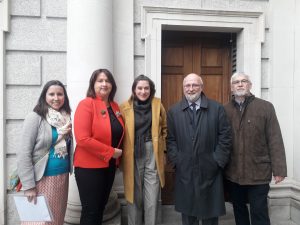 Left to right:
Amanda Pyron, Barnardos who spoke on internet safety, Deputy Anne Rabbitte, Fianna Fáil Spokesperson on Children and Youth Affairs who hosted the event, Amy McArdle from Early Childhood Ireland, Fergus Finlay from Barnardos who spoke on the Lost Child Campaign and Francis Chance from the Katharine Howard Foundation who presented the survey findings.