Community Mothers Programme
During 2019 the Katharine Howard Foundation and the Community Foundation for Ireland completed their work on the National Review of the Community Mothers Programme, in partnership with Tusla and the Health Service Executive. The Review Report was launched in April 2019 by Bernie McNally, Assistant Secretary in the Department of Children and Youth Affairs at a very successful event.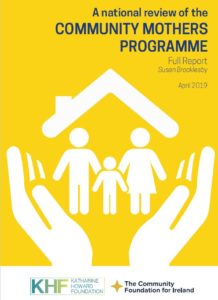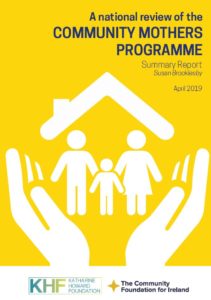 The report recommended a development process, drawing on the combined experience and expertise of the local CMP services, to develop a single updated national model for the Programme, supported by a national dataset and a range of wraparound community supports.
In September 2019, KHF in a partnership led by the Early Learning Initiative at the National College for Ireland (NCI), secured funding to implement the recommendations of the Review. The funding is allocated through the Sláintecare Integration Fund, with matching funding from a private funder secured by NCI. The CMP Development Project is ready to commence work in early 2020 with a view to concluding in 2021 and will be supported by an Oversight Group with representatives from NCI, HSE, Tusla and KHF.